The airfield at Sisteron (also known as Sisteron-Théze, or Vaumeilh) is 1200m x 100m and lies at 1780ft above sea-level on the eastern side of a large (20km) valley. The local hills rise to around 6000ft (all heights above sea-level) and a glider above the tops of these hills will be able to reach Sisteron airfield although the view might appear 'impressive'. Pilots generally 'work local' to gliding airfields of which there are ten within an 80km range of Sisteron, plus a few more microlight strips.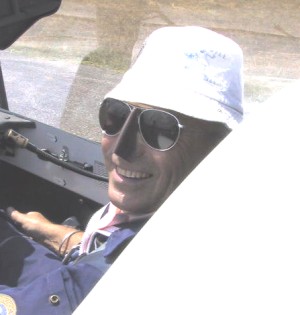 René: local hard-nosed instructor
There are a number of instructors available for check flights for pilots and pleasure flights for non-gliding partners. Such flights may be just of the local area or extend as far as to the north of the Ecrins - just ask!
All of the local instructors have vast experience of the mountains and even highly experienced pilots would benefit from the occasional two-seat ride with one of them.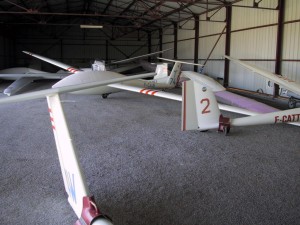 Half of the glider hangar
The club fleet includes two Duo Discuses, a Twin Acro, a Janus, and several single-seaters (Pegase, LS6c, LS4, Astir, SZD55).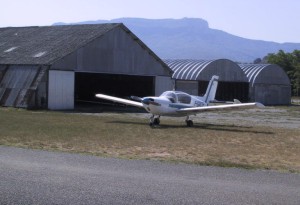 One of 4 tugs with their hangars in the background